SUNSHIELD: Excellence in Solar Control
50 years of experience
The development of the first Sunshield systems started in 1971 in an old brewery in Wooburn Town, about 50 km from central London. An important step was the change from fixed slats to adjustable slats. With this unique abilitiy to provide precise light control, this system was succesfully exported to the Netherlands. This was the start of a long and intensive cooperation between the UK and the Dutch operations. During several mergers and acquisitions the production and development moved completely to the Netherlands and since 2006 Sunshield operates from its current location in Raamsdonksveer (NL)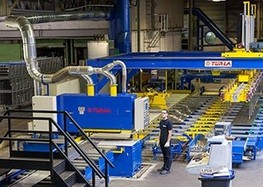 Highest Quali
ty Standards
For all our production steps and suppliers we set the highest standards in quality and accuracy. We have long-term partnerships with our suppliers. Due to the direct contact between Sunshield and its specialist suppliers we have achieved many innovative breakthroughs and we can guarantee constant high quality.

With Passion for Perfection
Our people really go the extra mile for achieving the best result. From engineering until delivery logistics we continously strive for excellence. In case of a problem, we will do the utmost to repair it with highest urgency. In each project, small or XXL, we strive for the ultimate customer experience, together with our dealers.

World wide network of first class Dealers
From Canada to Australia and from South-America to Japan, Sunshield has dealers who strive for the same Excellence in Solar Control: from engineering of the design until the finished installation, and any after sales services when needed. Don't hesitate to challenge us with the most complex situations or missions that seem to be impossible.