Blinds Interior
The louvers of Sunshield are mostly used for shaped interior blinds, large sizes in width or height, or the ability to use original wood.
country style wood
Especially Golf Clubs prefer to bring the ambiance of the country life. What is better than the usage of real wood in the blinds. Like what happened in this large blind of 10 x 4,5 meters in the newly build Hogs Head Golf Club in Ireland. The wood used is untreated western red cedar.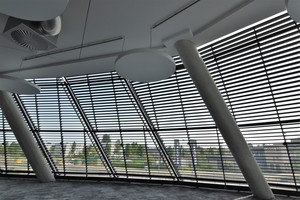 industrial look
With the aluminium louvers also a very modern industrial look & feel can be created. Here at the Curve building in Amsterdam the 96E blinds are 3 meter high and have a different slope in every blind and side.