Façade Exterior
Exterior louvers have many benefits. Most important are reducing energy consumption and the improved control of light and heating by the sun. Besides that, exterior louvers give buildings and their façades an extra architectural dimension and impression.
DAYLIGHT FOR BETTER PERFORMANCe
When we sit inside a building, we all recognise the benefits of natural daylight entering through the window. We respond better when we can have a view to the outside and work better under controlled natural daylight conditions. Exterior louvers prevent overheating. They stop the sun's rays before they come into contact with glazed surfaces. This means also no blinding or annoying reflections on TV or computer screens.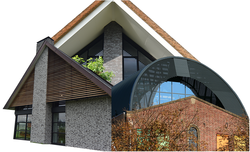 ARCHTECTURAL FREEDOM
Architects naturally like to create buildings that evoke interest and admiration. With the trend to larger areas of glazing, also the need for shaped glazing increased. Sunshield has unique solutions that follow the shaped lines and that keep the impact and view that the architect wanted to create, even for circles.
A BROAD RANGE OF LOUVERS
Sunshield has a wide variety of louvers in aluminium and wood, with a large choice of sizes and applications. This means that for every type of window of open space the right louver can be found to give the feeling and ambiance you want to create for your building. The complete assortment of louvers can be found in the section "Louver Types".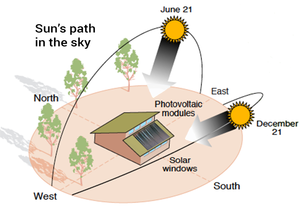 THE RIGHT ADVISE
The position of the sun varies from hour to hour and from day to day. The different positions can be visually presented in a sun path diagram. The experts of Sunshield consider all these elements when advising the best solution for you. For every project a design is made, the details of the system and installation are discussed with the customer. So you know what you get, and you get what you expect.
HIGH QUALITY
For all our processes and production steps the best materials and highest quality standards are used. Where possible we use recycled materials, and we limit energy consumption in our facilities. The best for the environment at the end is that the systems have a long-life. And this is exactly the benefit of Sunshield systems. There are already many examples where systems function as new for more than 15 years.
For every façade, curtain wall, mullion or window frame we have the right rack arms, rafters and mounting materials to optimize the design and to create a stable and strong solution. Sunshield systems are best known for their extreme high wind resistance. Please contact us for detailed information for your situation and system of choice.