Louver Roof / Pergola
An image says more than 1000 words. Sunshield an extension of your outdoor living.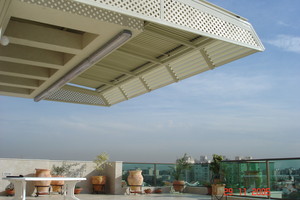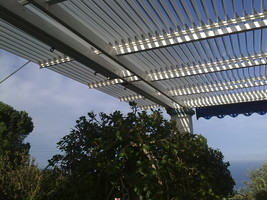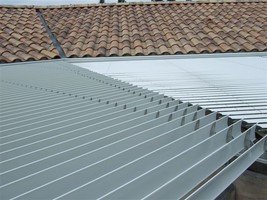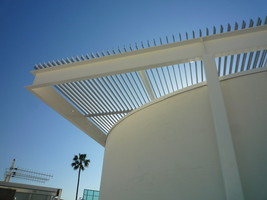 Sunshield louver systems are particularly suitable for a pergola, porch roof or louver roof. Some louvers are simply used for sun protection. Other louvers have integrated the drainage functionality. This can be in a horizontal position (with the usual fall of 1 cm per meter), or as roof tile construction at an angle of at least 5 degrees. A rain sensor can ensure that the louvers close automatically at the first rain drops. The under construction, such as pillars, consoles, and portals, can be made from wood, aluminum, steel, or any other material of your choice. The louvers can be visible from the side or be built into a box around. Special shapes are also possible for louver roofs; useful for example for corners around a fireplace. With the louvers in open position, you keep the maximum amount of natural daylight into your home; more than with any other louver roof.