Skylight Interior
From private residential to the most famous museums of the world, Sunshield has produced internally installed systems that are less visible in their operation and more visible in their effect of managing daylight. With a maximum daylight and see-through in open position on cloudy days, and with a pleasant feeling in fully closed position.
SADDLE ROOFs & ATRIUMS
Even for large openings or glass surfaces, our engineers always find a solution to create a workable and representative solution. The skylight blinds can be installed horizontally or sloped (following exactly the slope of the roof and skylight as shown in the picture aside. Due to our extensive programme of rack arms and slats/louvers for internal applications, we can create a solution that enhances the design of your building.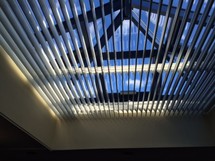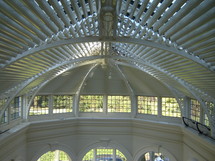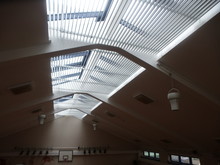 residential skylights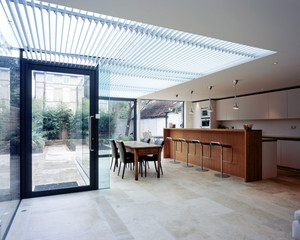 Large residential skylights bring a fantastic ambiance. Only the direct sunlight and the heating can be annoying. Sunshield louver system bring the solution to manage it. Consider also the perforated 50 mm and 80 mm louvers for an additional effect. The 50 and 80 mm louvers are also easily and very quickly be dismounted for any cleaning of the system or spaces behind. or maintenance. The long lifespan of the system bring also the benefit of a very low TCO (Total Cost of Ownership).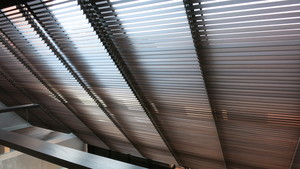 broad assortment
Interior louvers are available in a wide assortment. Especially the assortment 50 mm louvers in aluminium and wood is almost unlimited, and be identical as blinds from other suppliers, such as Luxaflex & Coulisse.
Ideal for conservatory
Conservatories, especially those completely made of glass have the highest demand for solar and heat control. For these reasons top architects have often made the choice for Sunshield. The advantage is also that in closed position our louvers create the feeling of a normal ceiling.