Colours and Treatments
The two options regarding surface treatment are powder coating and anodising. During anodizing a protective layer is built up from the aluminium itself. Via electrolysis, the natural aging process of aluminium is accelerated in a controlled manner. The most popular form of anodizing is natural or blank anodizing.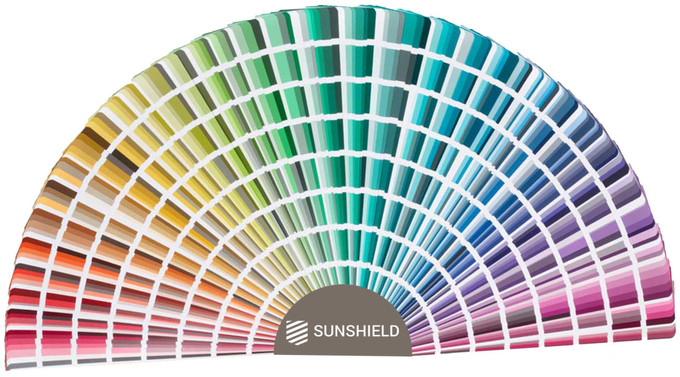 Powder coating
Powder coating is possible in all standard RAL colours. A standard RAL colour is a known with a four digit number in the RAL system. Like for example RAL 9005 – Jet Black.
With powder coating you can opt for a certain gloss level. Sunshield offers gloss levels of 70% and 30%. The gloss level of 70% is also known as high gloss. The gloss level of 30% is also referred to as matt.
Powder coating generally results in a colourful and smooth surface. It is also possible to add a fine structure to the powder mix prior to coating. This structure delivers a visible and tangible relief to the coated objects. Fine structure always goes hand in hand with a gloss level of 30%.
Of course, it is not mandatory to treat an entire louver system in the same colour. When you prefer rack arms in a different colour than the blades; no problem at all. You can also choose to have the rack arm anodised and the louvers RAL coated, and the clips in another colour to achieve sophistacted architectural impressions.
Even custom mixtures like combinations of a standard RAL colour with metallic particles can be arranged. This is less common, but definitely possible. A standard RAL color, with a gloss of 30% – with or without a fine structure – or a standard RAL color with a gloss level of 70% are without doubt the most chosen options.
Anodizing
Another option is anodizing. Not just plain, natural anodized. Anodising can be done natural and in different colours.
Anodising is the electrolytic process of increasing the thickness of the natural oxide layer as mentioned above. Anodising is a controlled process where an oxide layer is added to the surface of the aluminium to improve its resistance to wear and corrosion. This oxide layer has typically a thickness of 5 to 30 µm.
The most poluar type of anodising is natural anodising. When protecting against wear and corrosion is the main motivation for treating the surface, then natural anodising an obvious choice. It is an economical option, and popular for projects not visually accessible and industrial applications where appearance is less relevant.
Anodising in colour is also an option. Available colours are silver, gold, bronze, copper, grey, black, blue, red, green. The anodising layer is transparent, meaning the colour, gloss and structure of the end product depend on the material and its pre-treatment. Popular pre-treatments are grinding, brushing, and polishing.