88E Temp
The 88E is a non retractable louver blind made of extruded aluminium. With a width of 88 mm it size lie between the 75E, 80R and the 95E. It is suited for internal and external installation to horizontal, vertical, sloping or unusual shaped windows.
For a live impressions & different applications go to "More projects for this Product".
TECHNICAL INFORMATION & SYSTEM DETAILS
Below, detailed system photos are displayed. By moving the mouse on a photo there can be zoomed on details.
Black-out system
Due to the louver design the 88E is the preferred black-out system, being suitable for Museums, Galleries and bedroom windows. Sunshield 88E incorporates facia's baffles and brushes, this can mean that less than 50 Lux value can be reached depending on the building structure.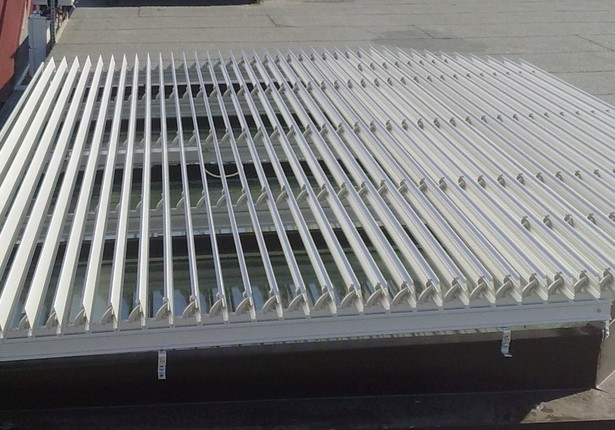 88E LOUVER
Material: extremely rigid 1,5 mm extruded aluminium;

All RAL colours possible, and many anodised and special treatments;

Maximum length of louvers: 690 cm;

Number of louvers in one system (drop): no limitations;

Louver to louver distance: 70 mm;

Wide variety of motorized, manual and control options for fully tilting of louvers;

Wind resistance: highest class (upto 110 kms per hour);

10 years Sunshield warranty

.
Main technical dimensions for aluminium louver 88E

The next figure shows a schematic overview of a 88E
system consisting of rack arms and 88E louvers.




Aluminium louver 88E

Size of louver

85 mm

Thickness of louver

1,5 mm

Louvers moveable

0o - 90 o

Interior

yes

Exterior

yes

Maximum Width (W)

690 cm

Maximum Drop / Length (L) in drawing 560 cm *

600 cm

Maximum area

25 m2

Louver - Louver distance (Step / Pitch) (S)

70 mm

Internal

External

Maximum Rack arm distance (X)

140 cm

130 cm

Maximum Side overhang (Y)

40 cm

30 cm

* = number of rack arms placed beneath each other is unlimited
Aluminium louver 88E in different positions
The 88E Louvers are moveable in every position between 0 and 95 degrees.
In the following overview the louvers are represented every 15 degrees from 0 to 90 degrees in vertical position (for normal windows) and horizontal position (for roof lights and sky lights).
Of course the Sunshield blinds can be installed at any slope wished.


In the above overview tree louvers are placed in the position 0°, 45° and 90 degrees.
A stylish and reliable Installation for every 88E System
The 88E System can be provided with 3 rack arms. In 90% of the projects the Standard Rack Arms fulfils the job perfectly, but in special circumstances the "Heavy Duty Rack Arm" or the "Box Rack Arm" are used. Additionally, Sunshield has a broad experience and a large assortment of mounting brackets and methods. With that, a stylish and reliable installation is guaranteed for every blind in every situation. For each project, the Sunshield engineers provide a detailed installation scheme, customized to the specific situation of that project. They are specialized in making the system "disappear" in the mullions, window frames and beams. It is guaranteed that the Sushield system gives an integrated view with the building.
| | | | |
| --- | --- | --- | --- |
| | Rack arm | Heavy Duty rack arm | Box rack arm |
| height | 35 mm | 80 mm | 98 mm |

Installation depth

Depending on the choice of rack arm and the installation brackets the system will have a specific installation depth. The standard bracket solutions have been represented in an overview that you can open by clicking on the image to the right. If you need a larger or smaller installation depth, the Sunshield engineers can adapt the system to your requirements.
A wide variety of Colours and Treatments

Sunshield has many colours in stock. Additionally it is possible to have customized colouring and treatments. It is even possible that louvers, rack arm and plastic components each have a different colour to achieve sophistacted architectural impressions. The most common treatments for aluminium parts are Powder Coating and Anodising. Anodising can be done natural and in different colours. Powder coating is done in all RAL colours. Custom made colours and structures are possible at request. A overview with most common colours is given below.
Jet Black

RAL-9005

Silver Aluminium

RAL-9006

Grey Aluminium

RAL-9007

Pure White

RAL-9010

Traffic White

RAL-9016

Sepia Brown

RAL-8014

Beige Brown

RAL-8024

Anthracite Grey

RAL-7016

Pebble Grey

RAL-7032

Ligth Grey

RAL-7035

Platinum Grey

RAL-7036

Agate Grey

RAL-7038

Turquoise Green

RAL-6016

Gentian Blue

RAL-5010

Wine Red

RAL-3005
The plastic components that make the louvers turn are made from a high-grade polyamide and are standard available in 4 colours. If necessary even the colour of these plastic components can be customized.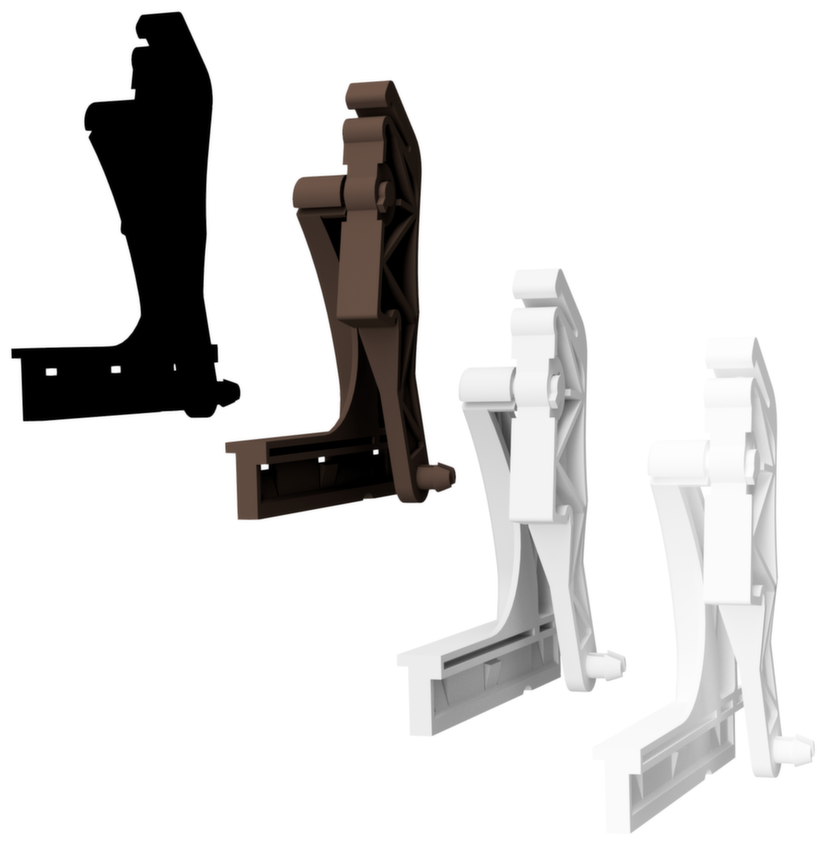 | | | | |
| --- | --- | --- | --- |
| Black | Brown | Ligth Grey | Pure White |
| RAL-9005 | RAL-8028 | RAL-7035 | RAL-9010 |
Quality and Certificates of Environmentally friendly production
Downloads for Architects & Designers