Colours and Treatments 1
The unique louvers from Sunshield are available in a broad palette of colours and a gamut of treatments. From coating in solid colours, to anodizing – natural as well as colourised.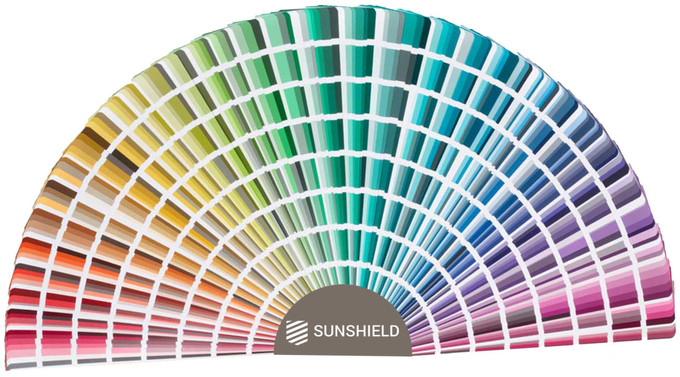 RAL Powder Coating
Aluminium louvers and rack arms are available in range of colours. These colours are defined by a RAL code. Sunshield distinguishes standard RAL colours and non-standard RAL colours. A standard RAL colour is a colour without structure or metallic particles, and known as a four digit number in the RAL system. Like for example RAL 9005 – Jet Black.
Standaard RAL colours deliver a smooth surface. Mixing a standard RAL colour with a powder results in a sruface with a structure, which gives a more exclusive impression. Another example of a custom made colour is a RAL colour mixed with metallic particles to give the painted surface a metallic shine. Custom made colours and structures are possible at request.
Generally, louvers and components are coloured by powder coating. A dry powder is applied electrostatically to the surface, and cured in an industrial oven. Powder coating results in a harder, and more durable finish than conventional liquid paints.
Another parameter with regard to colours is gloss, expressed as a percentage. Common gloss degrees are 70% and 30%. Sometimes also referred to as high gloss (70%) and matt (30%). A colour with 30% gloss is less brilliant than a colour with 70% gloss. The advantage of the 30% gloss is that scratches are less visible, than with 70% gloss. That is why some customers, especially for external solutions, prefer 30% over 70% gloss.
Among the aluminium louver types, only the roll formed 50-A and 80-R, are available in a limited colour range. The extruded louvers (ending with an -E) are available in any desired colour. A standard RAL colour is a colour defined by the RAL colour standard. Non-standard RAL colours are mixes of standard RAL colours, or RAL colours with structure or metallic particles.
Anodising
Another option is anodising. Not just plain, natural anodised.
Additionally it is possible to have customized colouring and treatments. It is even possible that louvers, rack arm and plastic components each have a different colour to achieve sophistacted architectural impressions.
The most common treatments for aluminium parts are Powder Coating and Anodising. Anodising can be done natural and in different colours. Powder coating is done in all RAL colours. Custom made colours and structures are possible at request. A overview with most common colours is given below.