S System Rack Arms
Clips connect louvers to a rack arm. The rack arm is mounted to a mullion or a wall. The less mounting points available, the sturdier the rack arm needs to be. For example, when it is necessary to bridge a glass surface, or a gap. In these situations there is nothing available to mount the rack arms to. That is why Sunshield offers several types of rack arms.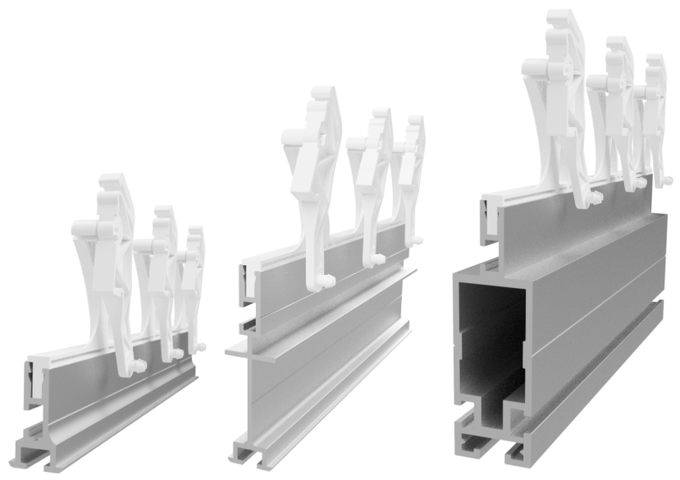 Flexible and reliable installations
The aluminium louvers up to and including the 117E and the wooden louvers up to and including the 94W make use of the S System. These S System louvers can be supplied with several types of rack arms:
Standard Rack Arm – the S 35 mm rack
Heavy Duty Rack Arm – the S 80 mm rack
Box Rack Arm – the S 98 or S 100 mm rack
Which type of rack arms is deployed depends on the project at hand. In most cases, the Standard Rack Arm will do the job perfectly. Depending on the louver type, the S 35 mm rack arm requires a mounting point every 1.200 to 2.250 mm. Where this is not possible, the Heavy Duty Rack Arm, or the Box Rack Arm can be used. based on project details, your contact at Sunshield will be able to advise you here.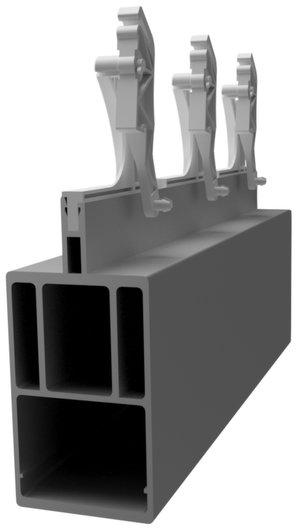 Actually, there is another rack arm option for the S System; the Beam Rack Arm. This S 117 mm rack arm was specifically designed for the louver roofs and pergolas. The lower chamber of the Beam Rack Arm offers enough room to house the motor as well as LED spots. Both are operated with a remote control, of course.
Sunshield also has a large assortment of supporting brackets and a broad experience with different kinds of mounting methods. It is this combination of several types of rack arms, mounting brackets and mounting methods that guarantees a stylish and reliable installation is for every blind, in any situation.