Marketing
Besides with products, parts, and engineering services, Sunshield can also assist you with marketing. Definitely, when you proactively promote the Sunshield brand in your region.
The marketing department can, for example, supply you with promotional materials like brochures, samples, and models. Or help you with the creation of your own Sunshield branded materials.
Brochures are available in Dutch, English, and German. Producing brochures in other languages, is also possible though. Sunshield can provide you with the text in English, you translate this text into your own language, and together we produce the brochure in your own languange. And with your contact details in it, of course.
Without being exhaustive, samples can be pieces of louvers, rack arms, or jet-moulded nylon parts like pivot arms, slat clips or bearing brackets. Samples of louvers generally have a length of 240 mm long.
With models you can show the customer examples of working louver systems in your showroom, during a trade fair, or at the customer's office. Sunshield offers two types of models.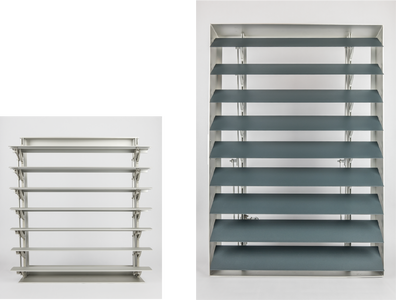 First there are the packable models. Here above, at the left, you see an example with the 75-E louver. Unpacked and assembled, these models are about 480 x 500 mm. The biggest advantage of these compact models is portability. Packed, these models are only about 520 x 110 x 100 mm – so easy to mail.
The bigger models are actually floor models, and are great for showrooms and exhibitions. Like the one at the right here above. That is an example of a model with the 96-E louver. Floor models have a width of 580 mm.
The height of these model varies from 770 to 820 mm. This depends on the step size of the louver type regarding. Step sizes are 45, 70, 90, and 140 mm. This also affects the number of louvers in the model.