Facade protrusions - a few examples of risalites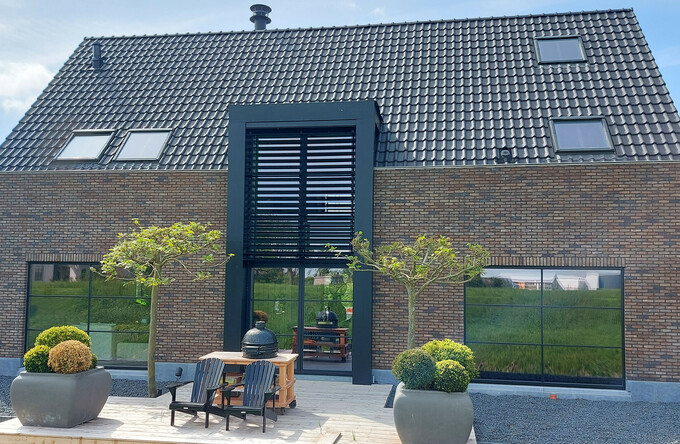 A risalite is a part of the facade that jumps forward from bottom to top, over the full height of the building. A kind of bay window that starts on the ground floor and continues to the top floor.
This is also called a facade protrusion. The word risalite comes from the Italian 'risalto'. That means 'extension'. You mainly see the central risalite, in the middle of the building, but the corner risaltite also occurs.
A risalite is an easy way to extra space, especially when you use glass. As it were, you simply place a risalite in front of a building. That is what happens. At a house, the front door is a popular place for a such a protrusion.
Several risalites are fitted with unique louvers. By Sunshield. Combine glass with movable, horizontal slats and you get the best of both worlds; the joy of a good view and protection against an excess of sunlight and heat.
If you look at photographs of risalites with slat systems, you will immediately notice the great variety. The louvers are made of aluminum or wood. Wider or narrower.
Aluminum louvers are available in any RAL color. A dark shade is often chosen, but white and yellow also occur. Wooden slats are sometimes treated and other times not so that they age naturally.
So there is plenty of choice. A Sunshield slat system is always tailor-made, bespoke. Hence, unique louvers.
« Back to overview