Keep the sun out inside, with elegant louvers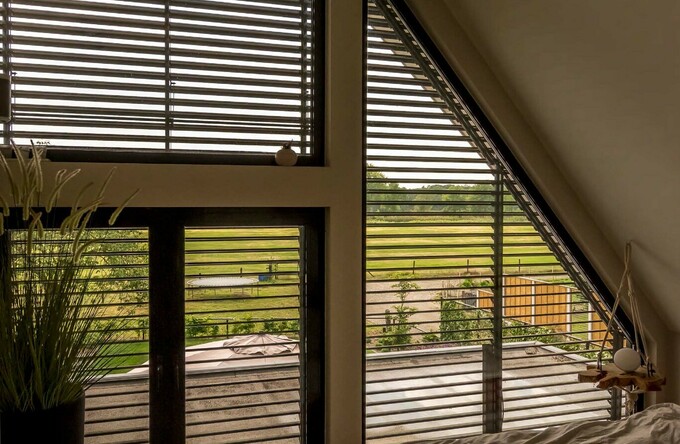 Nowadays, periods of sun are often short and intense. In summer, the mercury quickly rises to tropical temperatures. And even in spring and autumn we are regularly treated to summer days. We like to live and work in a comfortable living environment, so this development requires a solution.

Article from 1001 Woontrends (Living trends), Number 4, 2021
Particularly effective
Louvers, horizontal slats, offer a solution. They are much more effective than vertical slats. This is because in summer, when the sun is high, they block the sun's rays much better. Even when the louvers are (partly) open! This way you retain daylight and a view. And you can leave the air conditioning turned off, or at least turned down a notch. Which is good for your wallet and the environment.
Sunshield louver systems are usually placed on the outside. But they can also go on the inside. Sometimes there is no other way. For example, because the landlord, or an association of owners, does not allow them on the outside. So, no problem at all!
In every colour
Louvers can be perfectly integrated into your interior. You can choose from aluminum and wooden slats, narrow or wide. The wider the blade, the better the view when these are open. You can actually choose any (RAL) colour. You can even have louvers and carriers made in different colours. Regardless of characteristics and atmosphere, there is always a louver ensemble that matches your wishes.
For every shape
Windows can be rectangular, but also triangular, trapezoidal or circular. Sunshield offers a suitable sun protection for every window. Indeed, with movable slats! This is possible thanks to ingenious technic. What do you, as a user, need to know about this? Nothing! Yes, how you open and close them, or put them in any a position in between.
You can easily operate a louver system with a wall switch, a remote control or an app. This works with Apple HomeKit, Google Assistant, Homey, Alexa and many more. Just from your phone or tablet. How easy do you want it to be?
AND NOW?
Sunshield louvers are always custom made. For a non-binding quote, email the dimensions to info@sunshield.nl, and an advisor will get back to you asap.
Big thanks to 1001 Woontrends for the great article.
« Back to overview