Sunshield in Outdoor Living 2021 of The Art of Living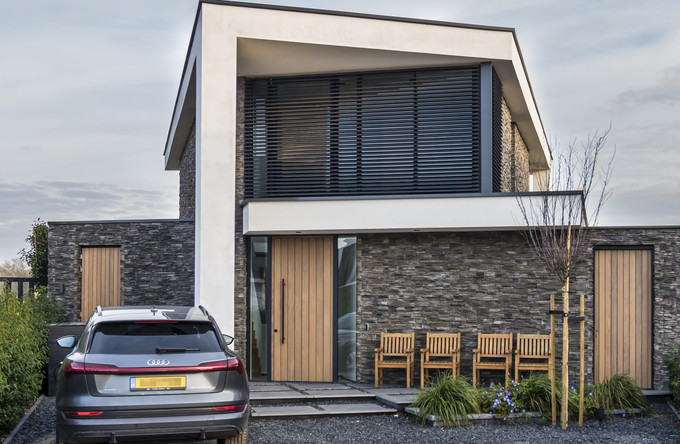 Anyone looking at the SUNSHIELD Unique Louvers website will hardly be able to suppress a feeling of "wow". Their unique sun protection consisting of flexible slats is the best solution for every situation.

Article from the Outdoor Living 2021, a special by The Art of Living
Take the façade louvers that are mounted on the outside of villas and residences. In addition to controlling daylight, they add an extra architectural dimension and an exquisite appearance. And sitting still is not an option: the latest upscaling at Sunshield are the elegant louvered roofs and walls. Ideally suited for those who want to enjoy the outdoors inside.
Joost Bogaers is director-owner of Sunshield: "We work with renowned suppliers from the Netherlands and abroad, but the products are tailor-made and assembled in our factory in Raamsdonkveer. Our strength lies in the knowledge and experience that we use in advising clients, architects and contractors. We really think along. Because our options are numerous, we also have an answer to sun protection with deviating shapes. We install ourselves and we can do that as the best."
"The advantage of a louvered roof is that the aluminum blades are movable", explains Joost. "You can sit outside while you keep the daylight inside the house. In the summer you can cool down by opening the louvers, but you can also opt for shade by closing them. Closed slats also provide a sense of cosiness in the evenings. With a louvered roof you can actually go in any direction. Not only as a canopy, but also with walls or glass panels on the sides. The roofs are maintenance-free, waterproof and available in all RAL colors. Functional but also aesthetically pleasing."
Sunshield has several types of louver roofs. There is the intimate Horizon and the infinite Infinity where there is no limit to the length of the roof. The blades of the Infinity are also extremely suitable on – or in – a wooden pergola. The louvers of the Horizon run parallel to the house, and the louvered roof is sloping, creating a particularly intimate atmosphere.
Also special are the possibilities of the Quadro system, where the slats can be beautifully built into any type of patio cover, with an integrated invisible rain drain. The Quadro and Rectini always have a rectangular shape. With the Rectini, the slats are fully retractable, and thanks to the insulation in the slats and high-quality sliding glass panels, the outdoors can be enjoyed almost all year round. Joost: "How you turn or turn it, regardless of the complexity of the situation or the question: there is always a sunshield that fits."
The above text is a translation of an article published in the Outdoor Living 2021, a special edition of The Art of Living magazine. You can view the formatted article (in Dutch) above and download it as a PDF.
« Back to overview