Too much sun? Just dim!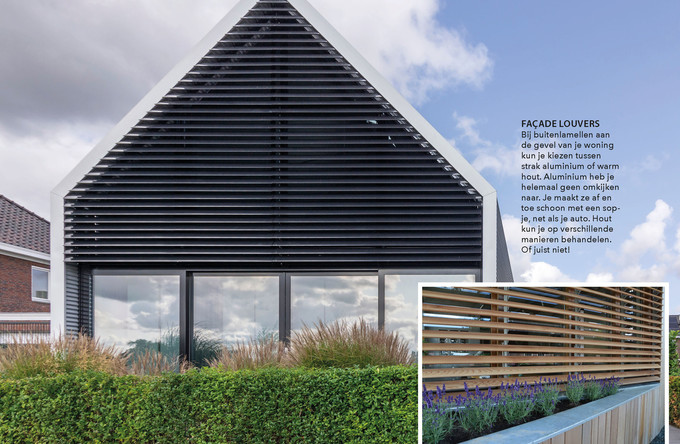 Light! Delicious! Whether you want to have a bite to eat, or work at home at the moment: light gives energy. With too much direct sunlight it quickly becomes too hot. Or the sun shines in your screen. Fortunately, you can easily dose daylight with movable louvers. You can also call them slats.

Article from the 1001 Woontrends (Living trends), Number 2, 2021
FAÇADE LOUVERS
For exterior blades on the façade of your home, you can choose between sleek aluminium or warm wood. You don't have to worry about aluminium at all. You clean them every now and then with soapy water, just like your car. You can treat wood in different ways. Or not at all!
SKYLIGHT
You can turn a veranda with a glass roof into a cosy garden room with slats. Hang the louvers on the ceiling, or put them on the roof. That keeps the heat out even better. This also works great with skylights. Perforated louvers preserve the feeling of daylight, even with closed blades.
HORIZON
Do you want to extend the house? This is easy with a louvered roof. With the Horizon you can sit outside all year round. Rain or shine. The slats of the Horizon run parallel to the house. The main benefit? You keep maximum light in the house!
WALL AND FENCE
Get them both! With a louver wall on the head of your terrace you are nice and protected. Against the sun. The wind. And prying eyes. With two walls in the corner of your garden you can build a gazebo. Or a garden shed. You want sun, open the walls. Prefer shade, or privacy? Close them.
EASY AND SIMPLE!
You can easily control a louver system with a wall switch, remote control or app. This works with Apple HomeKit, Google Assistant, Homey, Alexa and more. Just from your phone or tablet. How easy do you want it?
WHY SUNSHIELD?
Sunshield's blinds consist of supports and slats. The carriers hold the louvers and move them. It is precisely these carriers that are very flexible. No matter how your louver system is mounted. Vertical, horizontal, oblique. upside down. Or in what special shape. Genius!
AND NOW?
Louvers from Sunshield are always custom made. For a free quote, please email the dimensions to info@sunshield.nl. You are also welcome in the showroom in Raamsdonksveer.
UNIQUE LOUVERS STEP-BY-STEP
Orientation, (telephone) conversation
Mail building plan, sketch, photos
Get a quote
Visit the showroom
Receive the order confirmation
Sunshield comes to measure
Approve the drawing
Production of your louvers
Installation of your louvers
Do you want maintenance?
« Back to overview