Unique Sun Protection, Sunshield in Country Living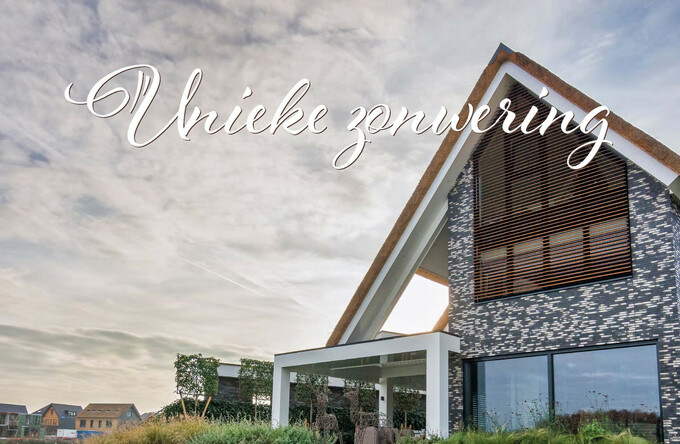 Do you think sun protection has a dull image? Sunshield proves that their slat systems can have either a modern or a rural appearance. The tilting slats are tailor-made to give them the unique character strengthening a home's character.

Article from Landelijk Wonen (Country Living), April 2022
Since 2006, Sunshield has been involved with louver systems; sun protection with horizontal, tiltable slats. Years of experience comes together with craftsmanship and high-quality materials.
The development and production of the louvers is located in Raamsdonksveer, Netherlands. Unique to Sunshield louver systems is that they can be installed horizontally, vertically, with a slope and even upside down. The blades are attached to modular carriers, allowing to create almost any desired shape. Even arched windows, and forms for which no other sun protection system is available, are no problem for Sunshield.
When putting together the perfect louver system for your home, several choices have to be made. To start with, careful considerations is given to the shape of the system and where it will be installed. When the slats are placed for your bedroom window, you obviously want to create privacy. Another wish often expressed, is the ability to completely darken the room. This is great feature if you work irregular shifts, for example in healthcare, and so you also want to be able to enjoy an undisturbed sleep during the day. Due to the design of these slats, they not only fall over each other, but also into each other. Since they interlock, the room is almost 100% darkened. And by adding brushes along the sides of the system, no light will come through there either.
For many customers it is also important that the view remains. They want to be able to enjoy the environment, even with a louver system in front of the windows. The degree of see-through can be determined with the width of the slats. The wider the slats, the more see-through you have. The widths of the louver types vary from 75 to 155 mm. Of course, the size of the window has to be taken into account too, so that the overall impression looks nicely balanced and proportionate.
Last but not least, you can choose from two different types of material for the slats; wood and aluminium. Wooden slats have a natural appearance, especially when the louvers are not treated. The untreated wood will age over time, something that certainly fits perfectly in rural environments. Sunshield mainly works with Western Red Cedar wood, a beautiful, stable type of wood also available in longer lengths. The colour of the wood can be influenced by giving it a specific treatment. However, when treating wood, it's important to keep in mind that this treatment has to be repeated every two to three years.
When you want to emphasize the contemporary character of your house, then blades are the way to go. The most popular colours are anthracite grey and black, but you can choose from any RAL colour. Even yellow-coloured louver systems have installed, Sunshield tells us. The bottom-line; everything is possible!
Thanks to Landelijk Wonen (Country Living) for the beautiful report.
« Back to overview