Powder coating
Powder coating is a much-chosen embellishment in louver systems. Black, anthracite and white are popular, but by no means the only colours. Coating is possible in all standard RAL colours. So there is plenty of choice.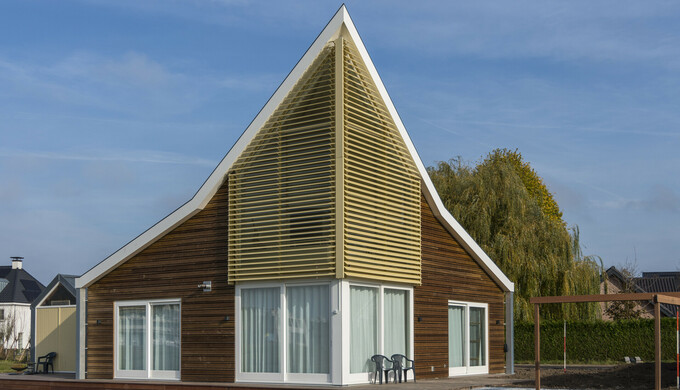 A standard RAL colour is indicated in the RAL system by a four-digit number. Such as RAL 9005 – jet black.. Here on the site you will also find an overview of RAL colours.
Powder coating is possible in different gloss levels. Sunshield offers the gloss levels of 30% and 70%. A gloss level of 30% is called matt or satin gloss. A gloss level of 70% is known as high gloss.
The powder coating process
The object to be coated is grounded. Subsequently, negatively charged coating powder is applied to the object with a powder gun. A powder layer, as it were, 'sticks' to that object. Any excess powder falls off and is reused.
The next step is the curing. The object to be coated then enters the curing oven. At a temperature of about 180 degrees, the coating powder melts. The coating hardens during cooling. Powder coating is therefore a dry finishing process, unlike wet coating, no solvents are used.
Textured powder coating
Powder coating generally results in a smooth surface. But you prefer a little relief? That is also possible! In such case, a fine structure is added to the coating mixture. It has a higher melting point than the coating powder. After curing, a texture – a light relief – remains. Fine structure always comes with a gloss level of 30%.
Colourful
You are not limited in one colour with a slat system. For example, you can have the carriers made in a different colour than the slats. Or for example the slats alternately in a different colour. That's no problem. Another combination that has proven popular, among others with commercial and public buildings, is to have the system with the carriers anodized and the louvers coated in the colour of your choice.
Speciality colours
Do you have specific wishes with regard to the colour of a slat system? Let's talk. Combinations of standard RAL colours are possible for example. Adding metal particles to powder mixtures is another posibility. In consultation with the coating partners, a lot is possible at Sunshield.