Villa fitted with brushed, bronze anodized louvers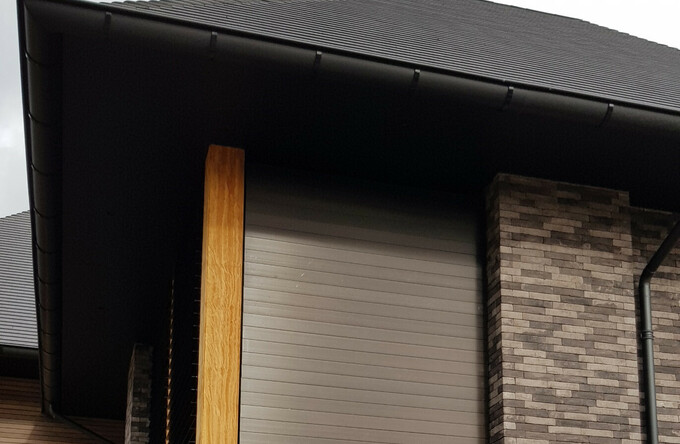 Sunshield's unique louver systems are mainly coated in a RAL colour. In commercial projects, natural anodising is sometimes preferred. This is also known as blank anodizing. Recently, customers also request anodizing with a colour. Yes, that's possible!
Prior to the actual anodizing process, the customer kan opt for a pre-treatment; brushing or polishing. That pre-treatment is optional. Brushing makes the surface rougher, creating a relief along the length of the blades. With polishing you achieve the opposite; the surface becomes mirror-smooth.
Most of the time though, the surface is left untreated. The aluminum then retains its natural appearance.
A good example of colour anodising is this project in Waalwijk, the Netherlands. Here, no fewer than 15 windows have been fitted with slat systems by Sunshield. Four in the front, three on the left, six in the back and two on the right. All rectangles.
The owners selected the 96-E louver, a blade with a sleek shape. These louvers are first brushed and then anodized in Alubronze 04. The other aluminum parts are coated in RAL 9005. During this coating, a fine structure is added to the RAL powder. This gives the coated parts a fine relief.
So in this project, all aluminum parts have a relief. The slats by brushing, the other aluminum parts because of the fine structure. The plastic parts are black, which fits well with the jet black RAL colour.
All 15 slat systems are equipped with their own motor. These motors are connected to the home automation system, this was already present. Now all louver systems can be controlled centrally.
So when you are considering Sunshield unique louvers, you have a lot of options. With regard to the surface treatment alone, these are; RAL coating, natural anodising or colour anodising, brushed or polished. Too many options? Let's talk!
This project is created in collaboration with
Studio Marco van Veldhuizen
« Back to overview