Façade Exterior
Façade louvers give you control over incoming sunlight, and means to influence heating by the sun. Moreover, these kind of louvers offer plenty of possibilities to beautify a building.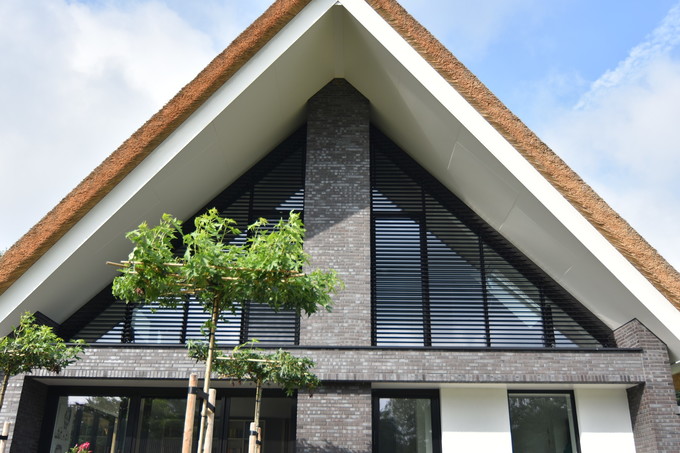 Control over daylight
People love to live and work with daylight and a view. An abundance of sunlight disturbs this pleasure through glare and reflection on screens. That is why louvers are often used on façades. This gives you control over the amount of daylight that enters the room. That is a simply matter of putting the shutters in the desired position. This can practically be done stepless from 0 ° (completely closed) to 90 ° (completely open).
Power management
The sun is not only a source of light, but also a source of heat. In the winter, heating by the sun contributes to a lower energy bill. That's nice. In the summer it becomes quickly too hot without air conditioning or a fan. That is less pleasant. With façade louvers you get influence on this warming up. In the summer the sun stands high and louvers block the sun. For a part even when they are open. On a (partly) cloudy day, that may be sufficient and you retain a view. When the sun stands higher and shines brighter, close the louvers further. Or completely.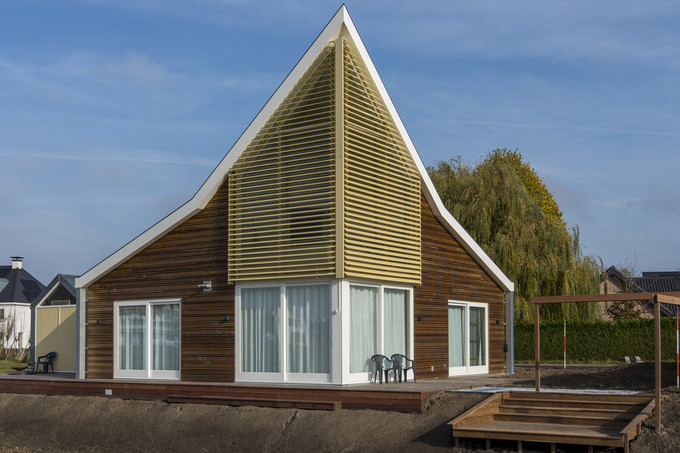 Architecture
Shutters also have aesthetic properties. Sunshield louvers are always tailor-made, and available in various shapes and colours. This gives the architect enormous freedom in shaping his ideas. And the owner of the building has plenty of options for distinction. Gable windows, in various sizes, are one of Sunshield's strengths.
Plenty of choice
Sunshield offers an extensive range of louvers in aluminium and wood. Louvers made of aluminium are available in a wide range of colours. You can choose from powder coat colours and anodizing colours. The most common colours are available from stock. Special colours and treatments, such as textured for example, are available on request. Wooden blades are usually made from Western Red Cedar. Wooden louvers are available with several treatments and in various colours.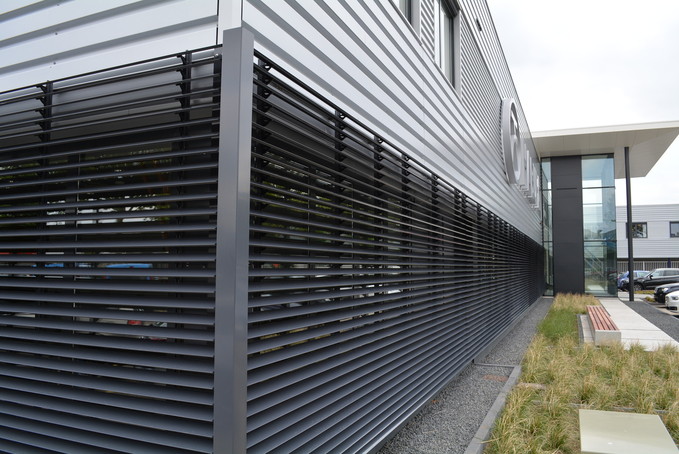 Two targets with one shot
The façade of Habufa Furniture in Hapert in the Netherlands faces south. Sunshades, blinds and net curtains offered insufficient relief. The problems caused by reflection on displays and warming of offices and showrooms by the sun were quite persistent. Until Habufa Furniture opted for a louver system by Sunshield. This solved both persistent problems in one fell swoop. The corner element in the photograph above covers front and side louvers. Which was the cherry of the cake, completely in line with the architect's philosophy.