Aluminium Louver 150-E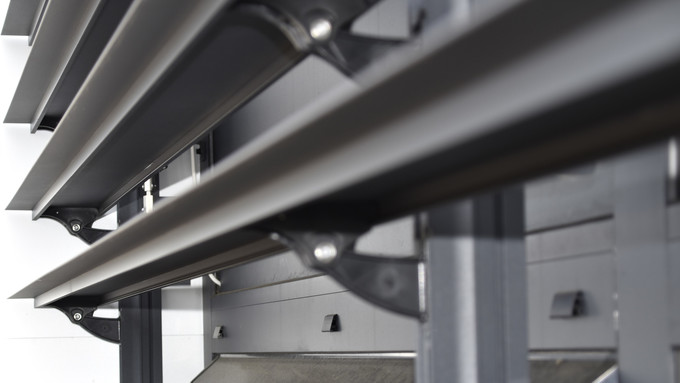 A 150-E louver system is a non-retractable slatted blind with 150-E louvers. These louvers are made from high-grade extruded aluminium, and have a width 150 mm. A 150-E louver system is suited for all kinds of internal and external installations; horizontal, vertical, sloping, and upside down. 150-E louvers are usually movable, but can also be placed in a fixed position.
Profile of the 150-E louver
The front, the visible side, of the 150-E louver has a flat shape, offering a good overlap. The back of the blade is designed for optimal fixation of the clip that holds the slat. The design of the back side of a louver follows from the function and form of the front.

The 150-E louver system
The following image shows a schematic representation of a 150-E louver system. Such a system consists of at least two rack arms, and a number of louvers, blades.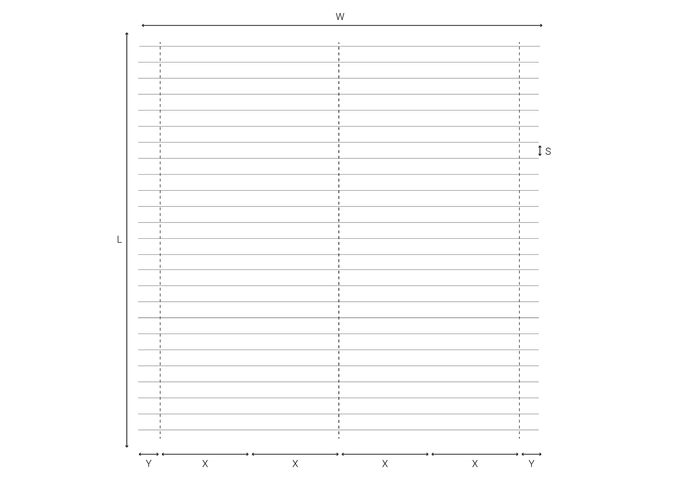 Louver properties
Property
General
Louver type
150-E
Size of louver
150 mm
Thickness of louver
1,8 mm
Movable
0° – 105°
Louver distance / Step (S)*
140 mm
Maximum width (W)*
600 cm
Maximum drop / length (L)*
600 cm
Interior
Exterior
Maximum rack arm distance (X)
200 cm
180 cm
Maximum side overhang (Y)
50 cm
40 cm
Support distance
L 65 mm rack arm
250 cm
225 cm
L 120 mm rack arm
500 cm
400 cm
* = the number of rack arms placed on top, or next to each other, is unlimited.
Sunshield 150-E louvers, the blades, are moveable, and can be placed in any position. And while most louvers open up to 90 degrees, the 150-E can open up to 105 degrees! Sunshield louver systems, the blinds, can be installed horizontal, vertical, in any desired slope, and upside down.
Information for Architects & Designers