Aluminium Louver 80-R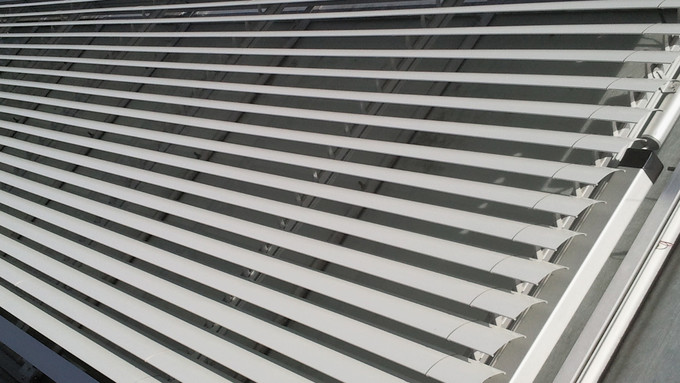 A 80-R louver system is a non-retractable slatted blind with 80-R louvers. These louvers are made from roll-formed aluminium, and have a width 80 mm. An 80-R louver system is suited for all kinds of internal and external installations; horizontal, vertical, and sloping. Even upside down. The 80-R louvers are generally movable, but can also be placed in a fixed position. The 80-R is available in a variety of colours. There are even perforated variants.
Profile of the 80-R louver
The front, the visible side, of the 80-R louver has a convex, rounded, shape. The back of the blade is optimized for quick fixation of the slat clip that holds the blade. The design of the back side of the louver follows the form of the front side.

The 80-R louver system
The following image shows a schematic representation of an 80-R louver system. Such a system consists of at least two rack arms, and a number of louvers, blades.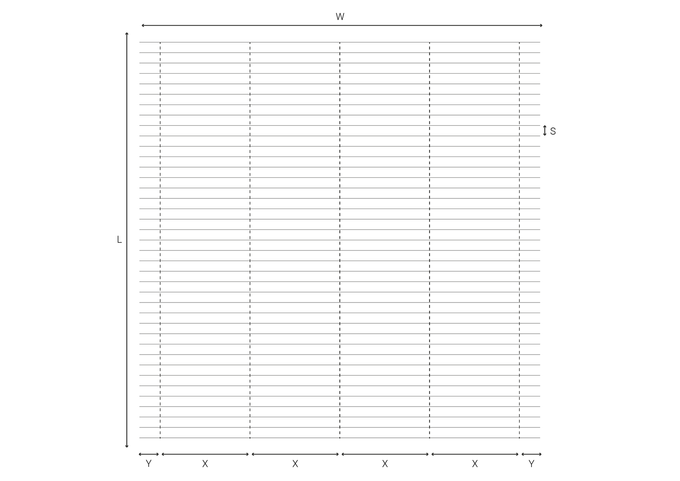 Louver properties
Property
General
Louver type
80-R
Size of louver
80 mm
Thickness of louver
0,42 mm
Movable
0° – 90°
Louver distance / Step (S)*
70 mm
Maximum width (W)*
600 cm
Maximum drop / length (L)*
600 cm
Interior
Exterior
Maximum rack arm distance (X)
120 cm
90 cm
Maximum side overhang (Y)
40 cm
30 cm
Support distance
S 35 mm rack arm
225 cm
150 cm
S 80 mm rack arm
350 cm
280 cm
S 98 mm rack arm
500 cm
380 cm
* = the number of rack arms placed on top, or next to each other, is unlimited.
Sunshield 80-R louvers, the blades, are moveable, and can be placed in any position between 0 and 90 degrees. Sunshield louver systems, the blinds, can be installed horizontal, vertical, in any desired slope, and upside down.
A variety of Colours and Treatments
The 80-R louver is available in a selected range of colours as shown here below. In general, the 80-R louver is available from stock in these colours. The other aluminium components can be supplied in any RAL colour. It is even possible to have louvers, rack arms and plastic components in distinguishing colours to achieve sophisticated architectural impressions.
The most common treatments for aluminium parts are powder coating and anodising. Natural anodising is the quite common, though anodizing in colours is also possible. Powder coating is possible in all RAL colours. Custom made colours and structures are possible on request.
Jet Black

RAL-9005

Silver Aluminium

RAL-9006

Silver Aluminium Perforated

RAL-9006

Pure White

RAL-9010

Grey Aluminium

RAL-9007

Pure White Perforated

RAL-9010

Traffic White

RAL-9016

Anthracite Grey

RAL-7016

Gentian Blue

RAL-5010

Light Grey

RAL-7035
The RAL codes mentioned above are intended as an indication.
Information for Architects & Designers