Public building
Some of our references
Doha Convention Center, Doha (Qatar)
European Solidarity Centre, Gdansk (Poland)
FBI Headquarters (USA)
Swedish Ambassy, Moscow (Russia)
Court of Justice, Cambridge (UK)

Fire Brigade Pompiers, Paris (France)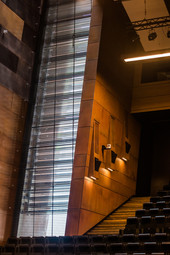 full control over Daylight
Even in the most difficult situations Sunshield can provide reliable systems that bring full control over daylight, glaring and solar heating. Above is a project with 170 circles (upto a diameter of 7 meters) in the rooftop at the Doha Convention Centre in Qatar. At the left is a 16 meter high and a 3,6 meters wide trapezium at the European Solidarity Centre in Gdansk (Poland). In combination with two systems of more than 20 metres in the roof, they can vary from full dayight to total blackout when needed.
Ideal for local government
Sunshield systems are easy to install, no special requirements or constructions needed, made of strong materials and finished with coatings that prevent pollution. They can be cleaned easily and effectively without special requirements. The benefit is a low TCO (Total Cost of Ownership), also for local or smaller government.