S-system Clips 48-E Louver
The 48-E louver is one of the louver types of the S-system, that doesn't use the standard clip. It requires a custom slat clip. That is because the 48-E has a step of only 45 mm. It is less wide than the other extruded louvers.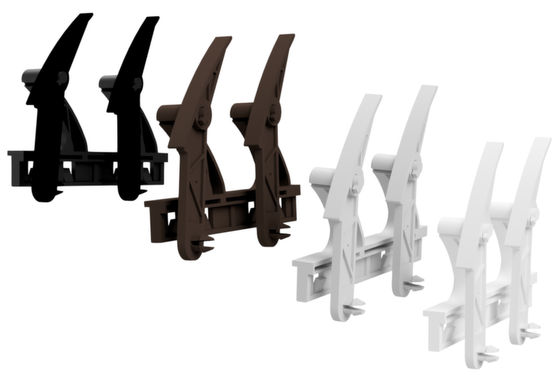 The clip is a two part mechanism. Jointly, the pivot arm and slat clip determine the position of the louver; from open to close, and any position in between.
The aluminium louvers up to and including the 117-E, and the wooden louvers up to and including the 94-W make use of the S-system and the standard S-system clip.
The exceptions are the aluminium 48-E, 50-A, and the 80-R. As well as the wooden 50-W. The clips for these louver types are described separately, and listed in the menu in the sidebar.
Pivot arm

The pivot arm is pressed into the top track of the rack. This makes a clipping sound, and the reason this part of the assembling process is called clipping. This double version is specifically developed for louvers with a 45 mm step (pitch).
Slat clip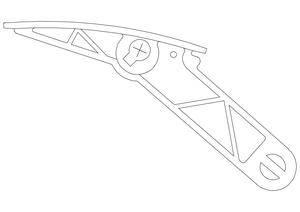 The 48-E slat clip is the part that holds the louver. The slat clip is connected to the pivot arm. Together these parts operate like a knee or elbow joint.
Clip Colours
The pivot arms and slat clips are available in four colours:
| | | | |
| --- | --- | --- | --- |
| Black | Brown | Ligth Grey | Pure White |
| RAL-9005 | RAL-8028 | RAL-7035 | RAL-9010 |
Please note that the RAL colours stated are merely indications.